So you're buying some new furniture for your home. Maybe a new sofa, a new dining table, and you could also use a desk chair for your home office. Easy! You hop online, find what you're looking for on Wayfair for a good price, and have it sent straight to your home. Bing bang boom, your home looks beautiful and refreshed. And it didn't cost as much as you thought it would! All is well… right? Well, not quite.
Six months later the frame of your sofa is broken. Your dining table is a little rickety. Your back hurts because your desk chair isn't as comfortable as your thought it would be. We've all been there, but where did you go wrong?
While online shopping is quick and convenient, it can be hit or miss on comfort and quality. Yes, you wanted to fill your home with these new pieces as soon as possible, and yes, the savings were great. But did you consider how long they would last? When buying furniture, you don't want to spend your hard-earned dollars on something that'll do "for now." You want to BIFL. What's BIFL, you ask? Great question. It stands for Buy It For Life.
But what does "Buy It For Life" actually mean? Well, it's the idea that you buy something one time and it can last a lifetime. Think about it—how often do you intend on buying a new dishwasher? Or a new toilet? When you purchase these items, you want them to last as long as possible and be as reliable as possible. The same goes for furniture! And a place to start is to keep one keyword in mind: Quality.
Quality Over Price
Investing in quality furniture ensures comfort movie night after movie night.
Quality comes in many shapes and forms. It could be the frame used for a bed, the fabric or leather used for a sectional, even the cushion used for a bar stool. And the best way to determine the quality of the furniture you're looking to purchase is to visit a store and see it in person. Not just see it, but test it.
Sit on the sofa you have your eye on and consider the following:
• Material:
Is the texture to your liking? Is it durable? Will it be easy to clean?
• Comfort:
Is the seat the right size? Is it large enough for your family (or future family) to enjoy? Does it have the right amount of back support?
• Construction:
How has it been built? Is the frame strong? Will the cushions last the test of time?
Answering of all these questions can be overwhelming, but you don't have to do it alone! The best part about seeking out quality in-store is that there are experts readily available to help you through your purchase journey.
We know that quality isn't always the first thing we think of when it comes to making large purchases. More often than not, purchases are driven by our budget. Which, of course, makes perfect sense. But think of it this way—your furniture purchase is an investment. Sure, you can buy a cheap dining table and call it a day, but how long will it last? How soon will you have to buy another one, and again a few years down the line?
In the long run, it's better to spend the money now and know that what you're purchasing will last a lifetime. And in many cases, you don't need to drop a huge sum of cash at once to buy quality home furnishings; You can take advantage of financing! Financing allows you to buy what you need now and pay as time goes on, much like a car payment. It gives you the flexibility to enjoy and afford high-quality items.
Solid Wood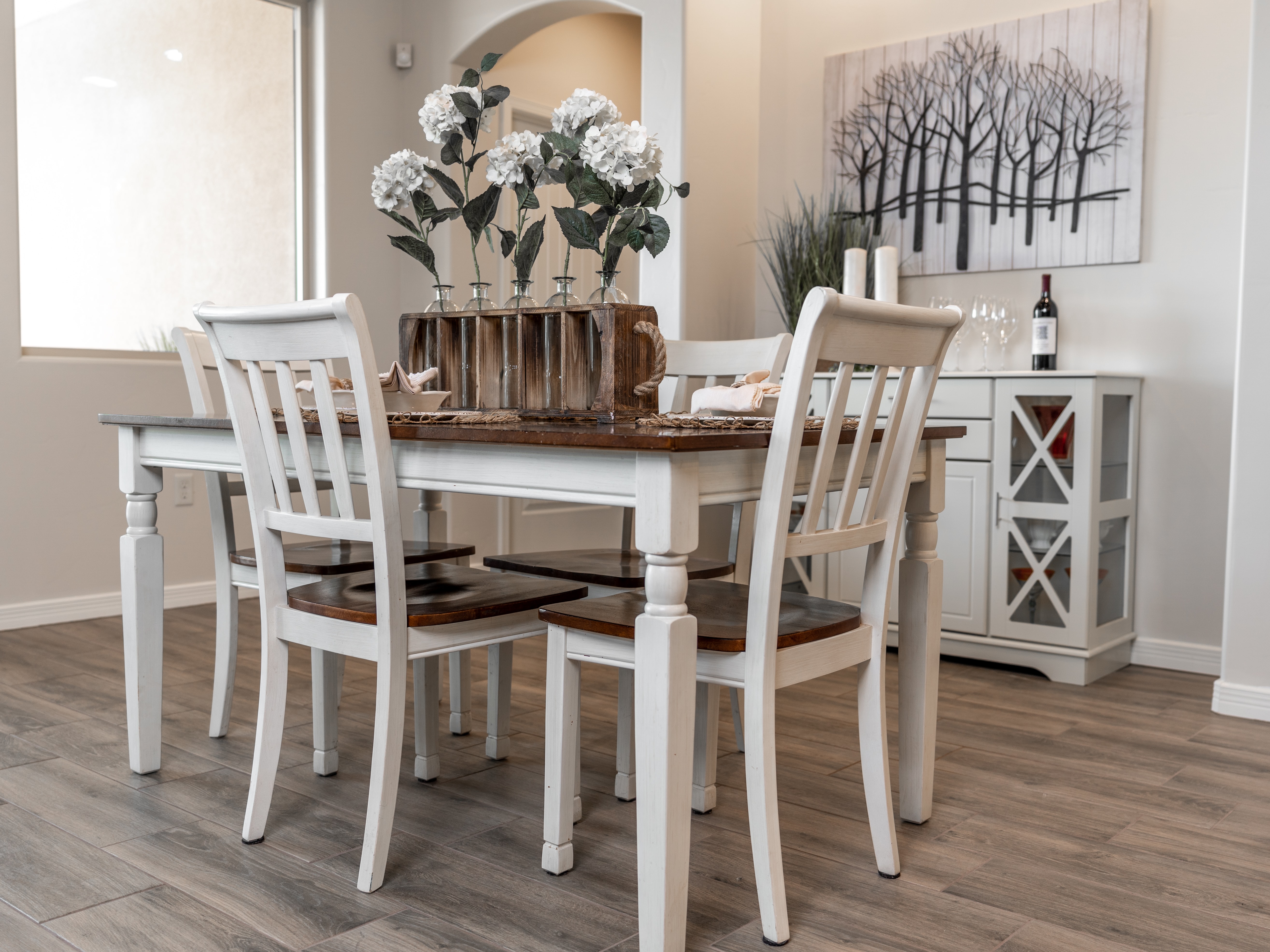 Durable solid wood dining sets with expert craftsmanship construction are built to last.
If you're looking for quality dining tables, dining chairs, and even full dining sets, you'll want to consider solid wood. Not only does the sturdy construction make for a long-lasting product, it also makes for beautiful pieces to show off in your home. No more squeaky chairs that might fall apart if you sit on them. No more fake wood grains. Just warm, rich craftsmanship that can be passed on through the generations.
But solid wood isn't just found in dining rooms. You can bring the beauty and strength of solid wood to any room in your home.
Solid Wood Options for Living Rooms:
• Sofas
• TV Stands & Entertainment Centers
Solid Wood Options for Bedrooms:
• Beds
Solid Wood Options for Home Offices:
• Desks
• Cabinets
So now you know what to look for when you're buying furniture for life. But say something's missing. You can find quality furniture, but it's still not exactly what you're looking for. That's where customization comes in.
Custom Furniture
Tailor custom furniture to create a personalized, lasting style for your home.
If you really want to make a purchase that's high-quality and that you'll love for years to come, consider a custom order. Custom ordering allows you to decide on the exact fabric, style, brand, and configuration of the piece (or pieces) you're looking to add to your home. Not only will you want to keep what you customized because you had a say in how it was created, but you'll also be able to tell your friends and family that your gorgeous new sectional is one-of-a-kind.
Here's how customization works:
1. Choose your furniture piece
This can be anything from a 5-piece sectional to an ottoman, or everything in between.
2. Select your fabric or leather
Keeping in mind what you know now about quality materials that will work best for you and your family, you can select from hundreds of fabric and leather options.
3. Select a trim and/or welt
This is where your personal style can really shine through. Choose from fringe, nailhead, scallop and more to put your own signature touch on your piece.
4. Choose a leg style and finish
You may not realize it, but the leg style on your seating really makes a difference in the style of your room. Choose from tapered block, splayed, bracket, bun, and more.
5. Choose your cushion comfort
From innerspring to memory foam, there are plenty of options to choose from for your custom furniture. Pick what you find most comfortable, and ask your consultant about durability of the cushion you love.
6. Select power upgrade options
Want to recline? Built-in charging stations? Heated seats? Adding a power upgrade is a great way to really take your relaxation experience to the next level.
7. Select your accent pillows
Accent pillows are a great way to dress up your space. And because you want to keep what you customize for a lifetime and beyond, your accent pillows can be changed out as time goes on and trends change.
8. Have fun updating your whole space!
So now you have your perfect furniture. The sofa you custom made looks beautiful in your home, but how do you tie together the whole space so you can love it for a lifetime? That's where a room designer comes in.
Expert Room Designers
A room designer can help you to create personalized designs for your home using the furnishings that you buy for life. At the Design Center at Designer Furniture Gallery, it's as easy as 1-2-3!
1. Show us your space
Take photos, videos, or measurements of the space you need help with and tell us how you need us to assist. You can even show us the furniture that you bought for life so we can build your space around it!
2. Get custom design plans
We'll provide you with two 3D designs that fit your style and budget. From there, we'll work with you to revise the design until you're happy with the outcome.
3. Shop with confidence
After a design is chosen, we can help you shop your look directly from the design with exclusive discounts!
And there you have it. Everything you need to BIFL. Let us help you find your furniture for life with assistance from our consultants and design team.